Our fur friends, especially dogs, do so much to improve the quality of our lives. Research starting from the 1980s proves the long list of health benefits pets have for people, such as:
Lowering blood pressure
Improving recovery from heart disease
Reducing rates of asthma and allergy in children who grow up with them
Helping people's psychological well-being and self-esteem
So how can we say thank you to our fabulous fur friends?! Beyond just that steak dinner, if you really want to return the favor, consider an in-house pet massage! Based out of Derry, New Hampshire, Renee DeSimone of Iron Paws Therapeutic Massage has been helping pups improve their quality of life for decades. The best part? She comes to you!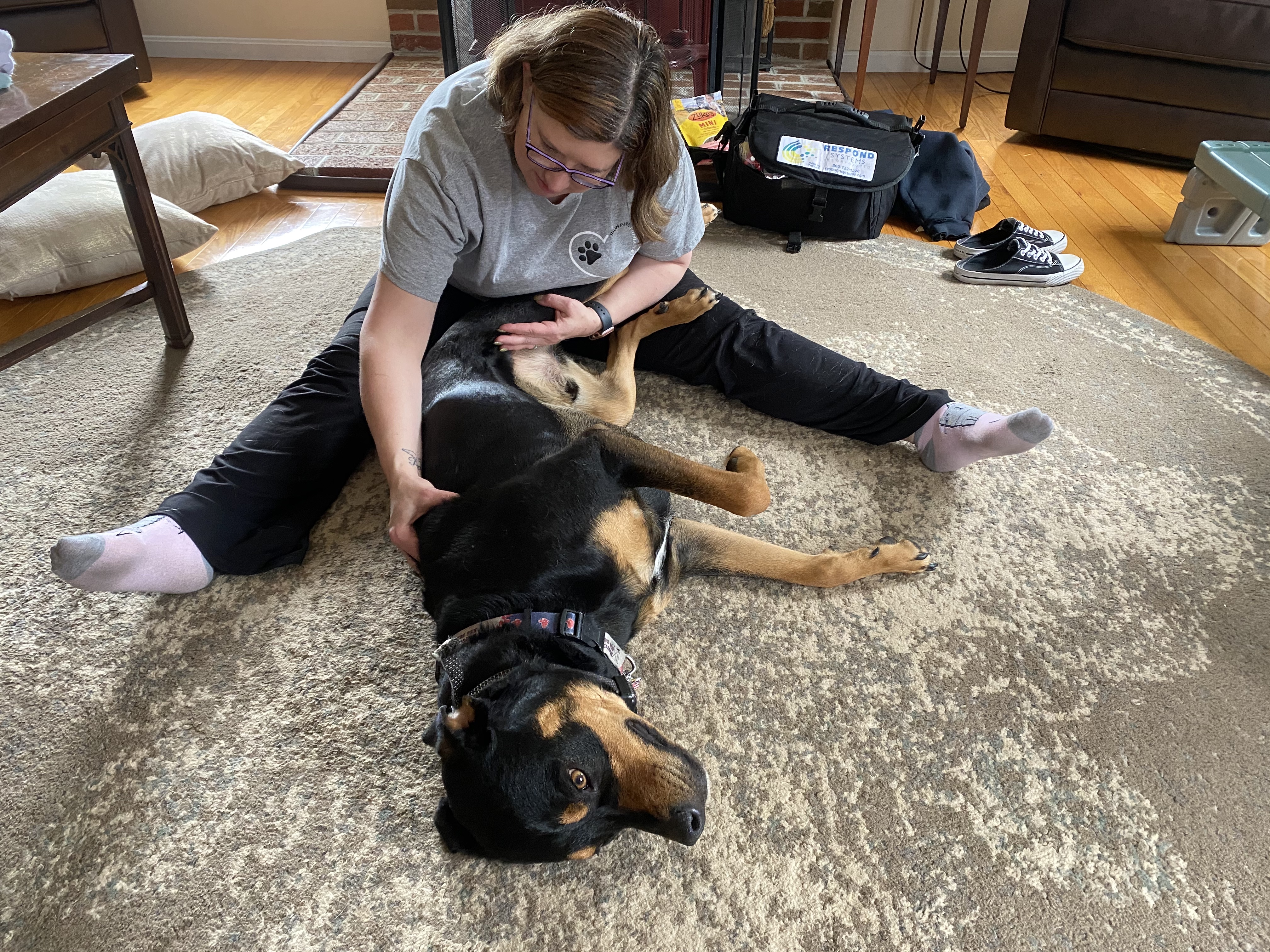 So who is the best candidate for a dog massage? Think about it. Which people can best enjoy a human massage? Same answer... everyone! Any dog, any age, with or without mobility challenges can benefit from regular therapeutic massage.
"I see dogs from 5 pounds to 150 pounds, just like us. It's all shapes, sizes and ages," says Renee.
5 Benefits of Therapeutic Dog Massage
According to Renee your pup can enjoy the following:
1. Increased circulation
Helps bring blood flow to the area, which brings warmth and better sensation. The results in a more fluid gate (walking/running.)
2. Relaxation
Reduces stress, improves the immune system. This contributes to an overall healthier, longer life.
3. Pain relief
Improves quality of life to help your dog to return to their naturally pain-free state.
4. Strengthening
Builds muscles, increases endurance, provides injury prevention.
5. Better mobility
Allows for increased flexibility.
Have my dogs benefitted from working with Renee?
I've had dogs all my life. Currently, we have Lola (female, German Shepard) and Johnny Cash (male, Rottweiler mix.) Recently, Cash has been experiencing some back leg pain, and so as a part of his road to recovery, we started regular visits with Renee for both therapeutic massage and laser therapy. (See Cash rockin' his laser-protecting doggles in the image above.) The impact on his overall quality of life, from strengthening to pain reduction, has been significant! I can't thank her enough for being part of his care team!
So why has Renee dedicated her life to helping pets?
"My lifelong goal is to help prevent injuries for dogs so that they can avoid a life that includes surgery, operations, restricted activity, medications, doctor visits, etc," Renee DeSimone.
Click here to book a consultation with Renee!
🌸🌸🌸
------------
SUBSCRIBE FOR MORE!
Love this article? Want more like it and to get the latest on local Greater Derry area events? Subscribe HERE to receive our free, weekly Macaroni Kid Derry newsletter in your inbox every Thursday morning. Our goal is to bring you all of the best family-friendly events, activities, and businesses in our area. We proudly serve the towns of Derry, Londonderry, Hampstead, East Hampstead, Windham, Salem, Chester, Candia, Atkinson, Auburn, Sandown, Pelham and Plaistow! Contact us anytime (karynm@macaronikid.com) with your ideas, event listings, and suggestions. Have a small business and want to reach thousands of local families? Advertise with us!